Notices and Announcements:
2017 Department of the Chesapeake Encampment
Information is available by
clicking on the
Department Encampment
Information Link above


Purpose:
We strive to assist the Sons of Union Veterans in keeping alive the memories of our ancestors
and their sacrifices for the maintenance of the Union; to caring for helpless and disabled Veterans; to
properly observe Memorial Day; to aid and assist worthy and needy members of our Auxiliary; to instill true patriotism and love of country; and to spread and sustain the doctrine of equal rights, universal liberty and justice to all.
The history of the Auxiliary to the Sons of Union Veterans is closely associated with the Grand Army of the Republic which was founded in 1866 and the Allied Orders who were later formed to continue their work. Post 94 of the Grand Army, Philadelphia, in 1878 created a Cadet Corps which later became the Sons of Union Veterans. Similar units were organized throughout many neighboring States. In 1882, the first session of the Commandery-In-Chief, Sons of Veterans was held at Pittsburgh, Penn.
In later years, the name was changed to Sons of Union Veterans of the Civil War. The need for an Auxiliary was soon recognized and through the efforts of Major A.P. Davis, the first Ladies Aid Society was organized at Philadelphia, Pennsylvania in 1883 and in the following year was officially recognized as their Auxiliary. Ladies Aid Societies were formed in several States in rapid succession and in 1886 plans for a National Organization were formed, with the first National Encampment being held in Akron, Ohio, September 1887. At the National Encampment at Boston, Massachusetts in 1894, our name was changed to the Sons of Union Veterans Auxiliary, with it eventually becoming known as the Auxiliary to Sons of Union Veterans of the Civil War.Click to edit this text.
.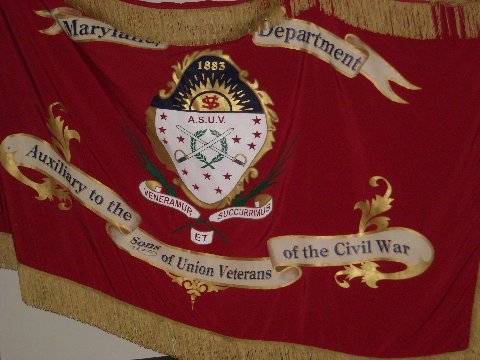 The Department of the Chesapeake also welcomes Junior Members lke the young lady below to join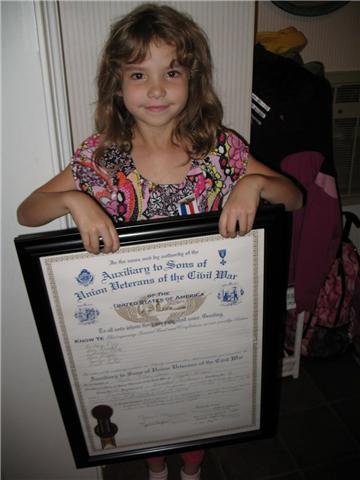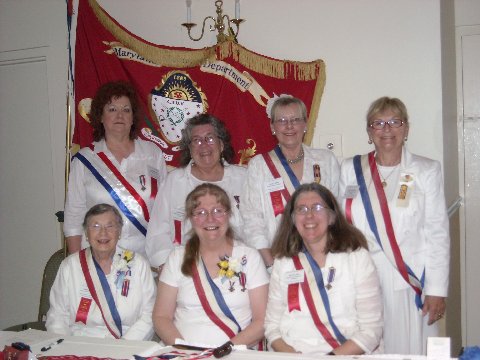 In Photo above Back Row: Ann Blackburn, Jo Ann Velten Carol LaRue, Jan Harding (PNP) Front Row: Millie Ames (PDP) Helen Geppi, Barbara Day (PDP)
The following

Department of the Chesapeake Officers can be contacted for Information about membership and chapter locations

President: Anne Blackburn

email: annecbs@comcast.net

Vice President: Hellen Geppi

email: gettysburglady@comcast.net

Secretary - Treasurer: JoAnn Velton

2404 Southern Avenue, Baltimore, MD 21214
email: JoJoV@prodigy.net


Chaplain: Amy Dinstel

email: dinstel@earthlink.net

Patriotic Instrctor: PDP Barbara Day

email: mbmcij@gmail.com